Written By: Dan Moylan, Chief Investment Officer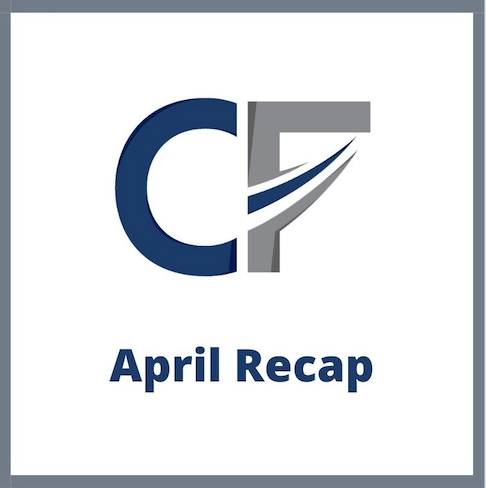 The stock market continues the uptrend with President Biden's vaccination initiative having a big impact on many economies opening up. The S&P, NASDAQ and the DOW all posted solid gains of 4.01%, 3.58% and 2.18% respectively in April. We are positioned well in your accounts to continue to take advantage of this bullish uptrend, fueled by the recovery from COVID-19.
This rally was supported by banner earnings reports the last week of the month, a continuing downtrend in weekly jobless claims and strong GDP. The Federal Open Market Committee (FOMC) also showed support, noting further signs of economic recovery, but will continue with no change to monetary policy until "substantial further progress" is made toward maximum employment. Big TECH continues to dominate with Revenue and Earnings beats from Apple, Microsoft, Amazon, Alphabet (Google) and Facebook. Share buybacks for Alphabet ($50b) and Apple ($70b) was reported to use some of their cash. We kept our models in tact with no major changes in April, other than rebalancing some accounts and continuing to put cash in the market.
Look for May to continue the uptrend as the economy gets closer this month to full recovery. Earnings season will be in full swing in May, expect earnings and revenue beats to continue across a broad section of the market.
If you have any questions, please don't hesitate to call us at 844-CARLSON (844-227-5766).
Get on our email list to receive these bi-weekly updates.
Ready to Take The Next Step?
For more information about any of the products and services listed here, schedule a free assessment today or register to attend a seminar.