Written By: Dan Moylan, Chief Investment Officer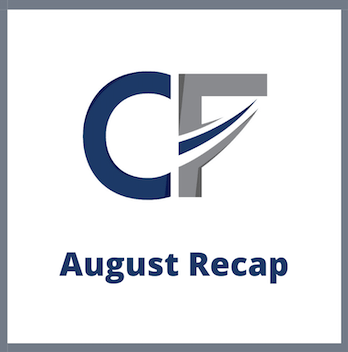 The summer has really flown by for me this year. We experienced some hiccups regarding COVID, due to the Delta variant, but the economy is continuing to generate momentum and continued its impressive recovery in August. Equities are still the place to be invested, with the interest rates continuing to be historically low. Chairman Powell, and the Fed, are still on the course of employment data driving any tapering and interest rate changes. The call by the Fed to look at current inflation as transitory and short term has been a homerun keeping rates low and supporting the economy. The stock market continues to be the investment of choice and had another up month in August with the NASDAQ up 4%, the S&P up nearly 3% and the DOW up 1.2%.
This last month saw TECH continue to payoff for investors, evidenced by the NASDAQ leading the other indexes. Dividend stocks are getting a bid now as well, with more investors chasing yield in this space as confidence has returned driven by better revenue and profits during this economic growth phase. Humana (HUM) hit the downside price target we had pegged August 11th , which initiated a rotation in the ROOF to swap Southern Copper Corp (SCCO) back for HUM. The buy of SCCO on July 28th qualified your accounts for the 90 cent/share SCCO dividend. This dividend paid August 26th and coupled with a small gain on the share value, netted nearly a 3% gain for the 12 days we parked your money in this stock.
We are still equity bulls, and overweight TECH going into the last month of this quarter. Small cap saw low confidence the last couple months due to Delta variant headwinds and the uncertainty about full scale re-opening. The confidence in small business has returned recently. It appears investors have decided that Delta variant will not cause a shutdown with the Pfizer vaccine having full approval and the overall vaccination rate going up.
Have a great Labor Day weekend.
If you have any questions, please don't hesitate to call us at 844-CARLSON (844-227-5766).
Get on our email list to receive these updates in your inbox!
Ready to Take The Next Step?
For more information about any of the products and services listed here, schedule a free assessment today or register to attend a seminar.