Written By: Dan Moylan, Chief Investment Officer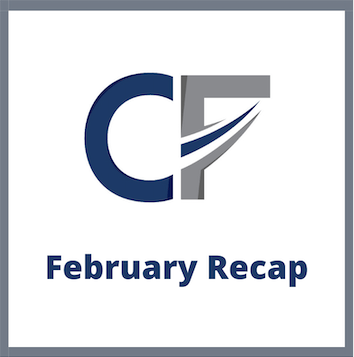 Spring is here and hopefully we aren't required to endure any more arctic blasts this year. Just a quick recap of the stock market and some changes made to your Fidelity accounts for February.
The market turned in a stellar performance the first three weeks of the month, unfortunately the last week took back most of the gains. The NASDAQ led declines, with TECH stocks leading to the downside the last week of the month triggered by rising interest rates. The 10 year Treasury rate has risen from record lows to 1.54% on 2/25/21. This is still considered quite low, but not so much when compared with last summer when COVID reaction drove this 10 year rate to below .60%. Fed Chairman Powell said Treasury yields are rising because of expectations for an improving economy. We are still bullish growth for this year and Q4 earnings have supported valuations in many of the stocks. There are a number of other fundamentals, including GDP, that indicate the economy is expanding.
We made the last of the trades discussed in January, taking some profit on Inseego (INSG) on 2/2/21, using the funds to buy the Tech software company Palantir (PLTR). Anyone that owns INSG will have noticed this trade in your account. Many of you have noticed another change in your accounts that has nothing to do with trades. We are in the process of consolidating your accounts down to either 1 or 2 accounts per registration. We are not changing allocations, we are just combining them into one account since many of the allocations share some of the same ETFs or stocks. You will notice the previous sub accounts will have some cash left in them. This cash will get moved and the account closed in March. We left these accounts active through the end of February for any February fees. Thanks for your patience, this will help us manage your accounts more effectively and should make it easier for you to look at.
That's a snapshot for February, 2021 from the investment team, I hope you have a great March. 
If you have any questions, please don't hesitate to call us at 844-CARLSON (844-227-5766).
Get on our email list to receive these bi-weekly updates.
Ready to Take The Next Step?
For more information about any of the products and services listed here, schedule a free assessment today or register to attend a seminar.