Written By: Dan Moylan, Chief Investment Officer (on March 2, 2022)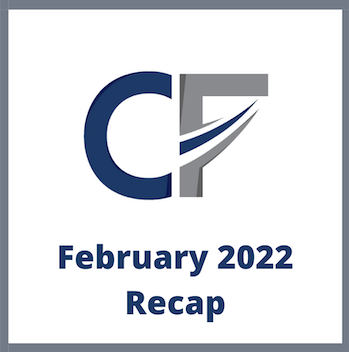 Today has a good feel, like Spring in Topeka. It always feels good when the markets run to the upside like they did today, with the three major indices up over 1.6%. We've had a rough February driven by the invasion of Ukraine by Mr. Putin and his Russian armed forces. The invasion triggered a selloff in the stock markets and a heavy buying in commodities, specifically Crude Oil and Wheat. Sanctions and supply chain disruptions for both these commodities, and many more, will drive prices higher as the invasion/occupation continues. President Biden emphasized the unity around the world and U.S. in response to this invasion. This unprovoked invasion caused a down February in the markets, with the Dow off 4.27%, the Nasdaq 4.14% and the S&P off 3.80%. However, looking at the 1 Year chart, we see the markets are up Year over Year through February, with the DOW up 7.47%, the Nasdaq 1.20% and the S&P 12.10%. This performance isn't what we've been accustomed to the last few years, especially in the Nasdaq, where substantial selling to lower valuations has a bigger impact on your portfolios that are in the ROOF model, since that model is overweight TECH and Growth. The market today liked Fed Chairman Powell confirming an interest rate hike in the FOMC meeting later this month.
Long Term, the correction in January and February is good for the rally and will now open the way for continuation of the uptrend that is supported by an overall strong U.S. economy. The interest rate policy will help ease inflation, but diplomacy and cease fire will be needed from Russia for any optimism to have legs in the stock market.
We moved many ROOF accounts out of Invesco Next Gen (QQQJ) with a swap that added to your positions of AMD, MU and MP. These are all stocks that were down over 10% at some point in February during the correction and all three had outstanding beats on the earnings front for last quarter. There is nothing wrong with QQQJ, but these stocks will have more upside potential and were under valued when we bought. I also used QCOM, MSFT and APPL for some of the QQQJ shares. This was a substantial shift in your accounts, with over 175,000 shares of QQQJ being replaced with all these stocks to provide a better probability to out-perform the market.
That's it for now, enjoy the Spring days in March.
If you have any questions, please don't hesitate to call us at 844-CARLSON (844-227-5766).
Get on our email list to receive these updates in your inbox!
Ready to Take The Next Step?
For more information about any of the products and services listed here, schedule a free assessment today or register to attend a seminar.