Written By: Dan Moylan, Chief Investment Officer (on February 1, 2022)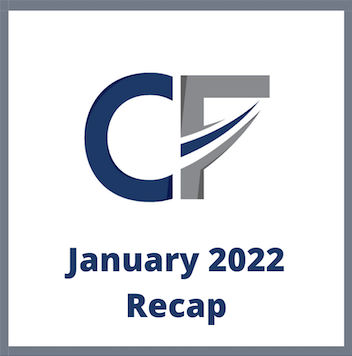 The stock market made a correction in January and was painful for all of us owning stocks.  The DOW was off 3.32%, the S&P 5.26 and the Nasdaq 8.98%.  These numbers don't look as bad as most of the month felt thanks to a pop of 5.78% average for all accounts the last two trading days of the month.  Look for the market to continue to stabilize in February, with continued volatility.  The speculation on how much of a rate hike is in store in March continues to lend to the uncertainty causing trading volatility.  The market will eventually consider the Fed rate hikes as a good thing.  The economy has plenty of strong fundamentals to allow stocks of good companies to continue to grow earnings, as the taper and interest rate increases begin. 
Anyone that owned Boeing (BA) in their accounts in January received a letter spelling out a corporate action of a tender offer BA was making to all odd lot holders (99 shares or less). We had two options, 1) sell all the shares you owned, 2) Buy enough shares to make your holding a round lot (100 shares or more). No action will be required on your end, I took the action for your account and replaced BA with Micron (MU) and MP Materials (MP) in most accounts with odd lots. Most of you may have already owned MP and or MU, if so, we added to your position. We kept BA in the accounts with round lots.
Look for sideways action in February while the markets consolidate into a trading range. We should see some upside from the energy sectors and consumer discretionary stocks. The company earnings have been upbeat and should remain that way in February as earnings season gets into full swing. Exxon Mobil (XOM) is up 6.5% today (2/1/22) after reporting some record earnings tied to cost cutting efforts during low oil prices and the major turnaround for high flying WTI oil, Brent Crude and Natural Gas. We should see strong earnings across the board in the energy sector for last quarter.
Have a great February and hang in there, a correction and a hike in interest rates from historical lows are both positives for the stock market in the long haul.
If you have any questions, please don't hesitate to call us at 844-CARLSON (844-227-5766).
Get on our email list to receive these updates in your inbox!
Ready to Take The Next Step?
For more information about any of the products and services listed here, schedule a free assessment today or register to attend a seminar.