Written By: Dan Moylan, Chief Investment Officer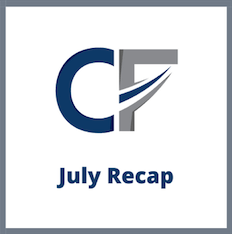 The stock market continued this year's upward path in July, supported by continued economic recovery, optimism over GDP growth and outstanding company earnings/revenue reporting for Q2.  Earnings season is in full swing in August, but Financials and Tech kicked off Q2 reporting the last 2 weeks of July with some impressive beats, no small feat given the sky-high analyst expectations.  Just one example of this was Alphabet, parent company of Google, reporting records on both revenue and earnings.  The optimism and supporting data allowed for multiple record intra-month closes from the S&P, DOW and NASDAQ.
We added to your Southern Copper Corp (SCCO) holdings in July. Back in May we added SCCO to clients invested in the high dividend model. In July we rotated out of SPDR Short Term Treasuries (SPTS) into SCCO for clients invested in ROOF models. We plan to rotate back into Humana or Anthem in the ROOF models if they hit our downside objective, but in the meantime, we feel SCCO will offer the opportunity to out-perform the market in these accounts.
We continue to monitor the airlines in August. Anyone traveling this summer has first-hand experience with high demand for air travel. Airfare has increased and the flights are full. This should continue to support the major airlines share price and upward momentum.
Have a great August!
If you have any questions, please don't hesitate to call us at 844-CARLSON (844-227-5766).
Get on our email list to receive these bi-weekly updates.
Ready to Take The Next Step?
For more information about any of the products and services listed here, schedule a free assessment today or register to attend a seminar.