Written By: Dan Moylan, Chief Investment Officer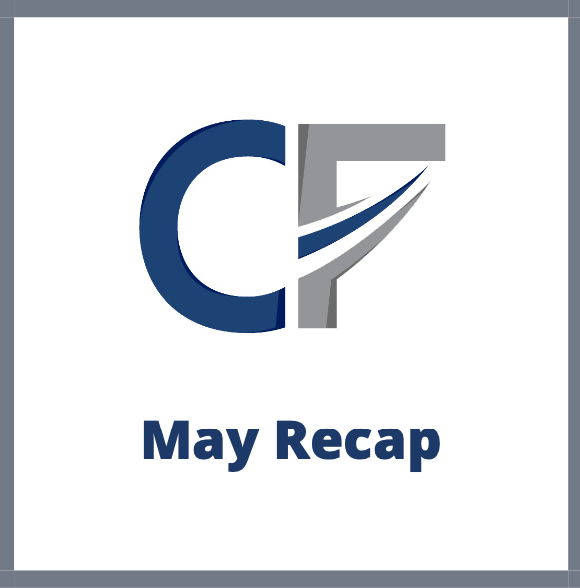 The official first day of summer is on the way and the vaccinations have accelerated our economic recovery in the U.S., allowing most venues to operate once again at full capacity. It's certainly nice to see baseball games with fans again. The recovery should allow the bulls to continue to dominate the stock market for the balance of the year, with economic data and company earnings continuing to confirm that the consumer will, and is, spending their excess cash on goods and services that were unavailable for much of last year. The noise around inflation is the main stock market headwind and caused sideways action for the month of May. This caused mixed results with the S&P and DOW up and the NASDAQ down, all marginally for the month.
We made one change in holdings in May, accounts that owned Humana (HUM) should have noticed we took profit on this stock, selling it and buying the short-term treasury ETF (SPTS) with the funds. The treasury is a bit of a place holder for the cash until we go back into HUM when it drops back 10% or more from the sale price of $454.40. We are still bullish equities for June and the rest of the year. The Roof models have a good mix, overweight growth, with some value stocks and ETFs. We will continue this allocation, overweight mainly Big TECH. Many of the Large and Mega cap companies have huge amounts of cash hoarded, so any increase in borrowing costs shouldn't impact them operationally if the Fed begins tapering and increases short term interest rates the second half of the year. One stock many of you own has had a good two days to start June, C3AI Inc (AI) is currently up over 22% for the first two days, up nearly 17% June 1. AI secured a 5-year renewal with Shell for Artificial Intelligence.
Have a great month ahead.
If you have any questions, please don't hesitate to call us at 844-CARLSON (844-227-5766).
Get on our email list to receive these updates in your inbox!
Ready to Take The Next Step?
For more information about any of the products and services listed here, schedule a free assessment today or register to attend a seminar.