Written By: Dan Moylan, Chief Investment Officer (on June 2, 2022)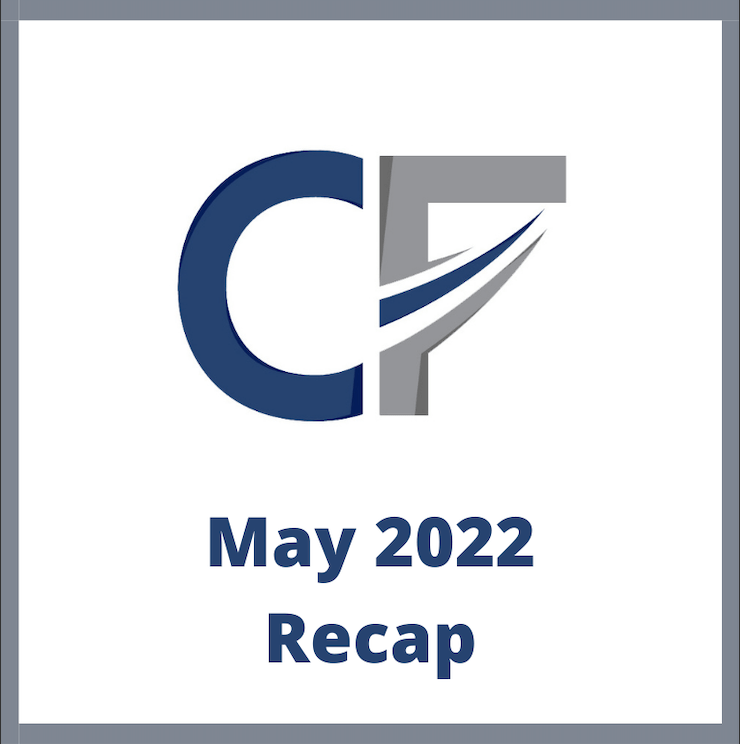 The market stabilized in May, although volatility still made for some tough days. Overall, the Nasdaq was off -2.05% (that seems awesome compared to the -14% in April), but we had small gains in the DOW of .04% and .01% on the S&P. That wouldn't normally get anyone too excited, but it is welcome relief from the downtrend we have been enduring. The S&P chart action, bouncing firmly off the 20% down, strengthened the bull argument for a bottom in May. This is supported by consumer spending and demand projections in some industries exceeding pre COVID. The airlines are projecting ticketing to exceed 2019 with robust business and individual travel while the energy industry has soared. So far demand has not been deterred by the sky-high fuel prices. OPEC ends their virtual meeting 6/3/22, they are looking to increase production by 600,000 barrels a day to offset the diminished Russian production. Demand is higher than supply, don't look for fuel prices to go much lower this summer unless something changes on the supply side.
We continued swapping stocks and ETFs in May, trying to replace poor to flat performers with higher upside potential stocks and hedges against inflation from material and energy stocks. See the list below for some of the trades we made for you. We also consider big TECH a good buy in the rising rate environment. The balance sheet on many of these companies have such an excess in cash, they can withstand higher rates much easier than smaller companies that need the Line of credit.
Please keep in mind that if your account is an individually traded account, has restrictions or has other special circumstances that prohibits trades, that account would be excluded from these block trades.
For June, look for sideways trading, leaning to the upside. The downtrend has been neutralized but now we need to establish an uptrend and we are still below the 100 day SMA of closes. Summer months historically have a thinner trade, so we could see choppy trade action with so many headwinds like the war in Ukraine and inflation. We are still bullish U.S. Growth based on the consumer with cash available to spend. Anyone that owns AMZN stock will see a 20:1 split take effect on 6/6/2022 and the board authorized a $10BB share buyback.
Have a wonderful start to your summer in June.
For more insight and perspective on the current market volatility, check out Scott's video where he discusses market corrections, crashes, bear markets and more.
Have a great May, enjoy the day!
If you have any questions, please don't hesitate to call us at 844-CARLSON (844-227-5766).
Get on our email list to receive these updates in your inbox!
Ready to Take The Next Step?
For more information about any of the products and services listed here, schedule a free assessment today or register to attend a seminar.