Written By: Dan Moylan, Chief Investment Officer (on January 5, 2021)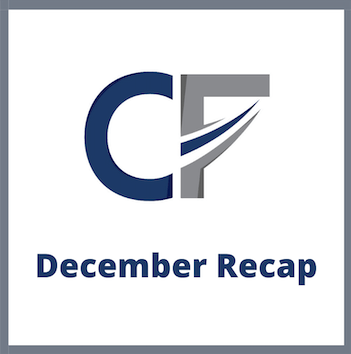 December recovered nicely from a down November in stocks with the DOW adding 6.81%, the S&P 5.61% and the NASDAQ ended the month up 2.56%. 2021 ended with a 26.89% gain by the S&P, 21.39% gain for the NASDAQ and 18.73% for the DOW. The growth for the year was driven by strong economic activity and unleashed pent-up demand for goods and services after 2020. The growth was tempered by inflation concerns and continuing concerns about Omicron, look for these concerns to significantly ease this year. Strong December gains came from investor approval when Fed Chairman Powell signaled a more hawkish Fed, indicating they are prepared to hike rates in 2022 in response to growing inflation concerns. The consensus is for three rate hikes next year.
December activity included moving everyone out of the clean energy fund (ICLN) and using the funds to by Willams-Sanoma (WSM). ICLN struggled the second half of this year with the inability of Congress to pass any kind of clean energy bill. WSM in the consumer discretionary category as a specialty retailer, should continue to grow earnings as consumers continue spending. We again traded the Humana (HUM) stock when it hit our upside target, the ROOF accounts that held HUM are now holding the short-term treasury SPTS, patiently waiting HUM to reach the downside target. Look for us to move back in on HUM when it comes off recent highs by 10%. We also moved in on the TECH company Docusign (DOCU) in a swap for Paypal (PYPL). Many of you should be familiar with DOCU, they supply the software for e-signatures that many of you used to set up your accounts. They had a nice dip in share price that we viewed as a buying opportunity.
The upcoming year is in position to continue the bull run of the stock market. With the Fed proactively working to ease inflation, low unemployment, and the supply chain issues easing look for continued strong economic growth. May the best of last year be the worst of the new year for all of you. Happy New Year and have a blessed 2022!
If you have any questions, please don't hesitate to call us at 844-CARLSON (844-227-5766).
Get on our email list to receive these updates in your inbox!
Ready to Take The Next Step?
For more information about any of the products and services listed here, schedule a free assessment today or register to attend a seminar.