Written By: Dan Moylan, Chief Investment Officer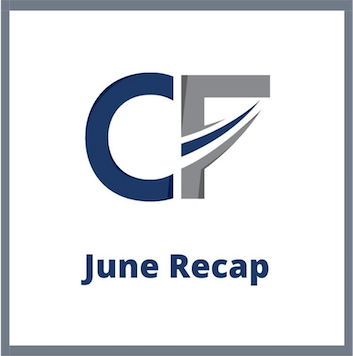 Hello everyone, and happy Independence Day weekend. I'm looking forward to the fireworks and cookout. Most markets will be closed Monday for the 4th with the major stock markets in the U.S. opening Tuesday morning, the 6th. The Bull Run in stocks continued through the end of Q2 with the S&P and NASDAQ, both posting solid gains over 8% for the quarter and the DOW closed the quarter up over 4%. The economy is picking up steam with many of the service industries beginning to open to full capacity. The infrastructure deal seemed to gain bi-partisan support in June, hopefully they can get this across the finish line in Q3 and our construction industry can begin rebuilding our roads and bridges.
We made a couple changes to your holdings In June. First, we rotated out of Emerson Electric Co (EMR) in portfolios invested in the Dividend model. Most clients that are invested in that model owned EMR and realized a gain from share price appreciation over the last 3 years. The price was up over 20% YTD. This price increase has dropped the dividend yield to just over 2%, so we swapped EMR for Southern Copper Corp (SCCO) which has a forward dividend yield of 4.35%. I expect SCCO share price to perform well during an expansion of construction worldwide. For clients that own growth in the ROOF model we increased holdings of Qualcomm (QCOM). The San Diego based chip maker has shown a lot of growth over the last 2 years and are competing well for market share in the chip world.
We will continue to monitor the airlines in July, but they still seem to have upside potential with the pent-up demand filling the flights. The airlines are optimistic about future travel as the Wall Street Journal reported UAL buying 270 new planes a couple days ago.
Have a great celebration for Independence Day.
If you have any questions, please don't hesitate to call us at 844-CARLSON (844-227-5766).
Get on our email list to receive these updates in your inbox!
Ready to Take The Next Step?
For more information about any of the products and services listed here, schedule a free assessment today or register to attend a seminar.