Written By: Dan Moylan, Chief Investment Officer (on July 12, 2022)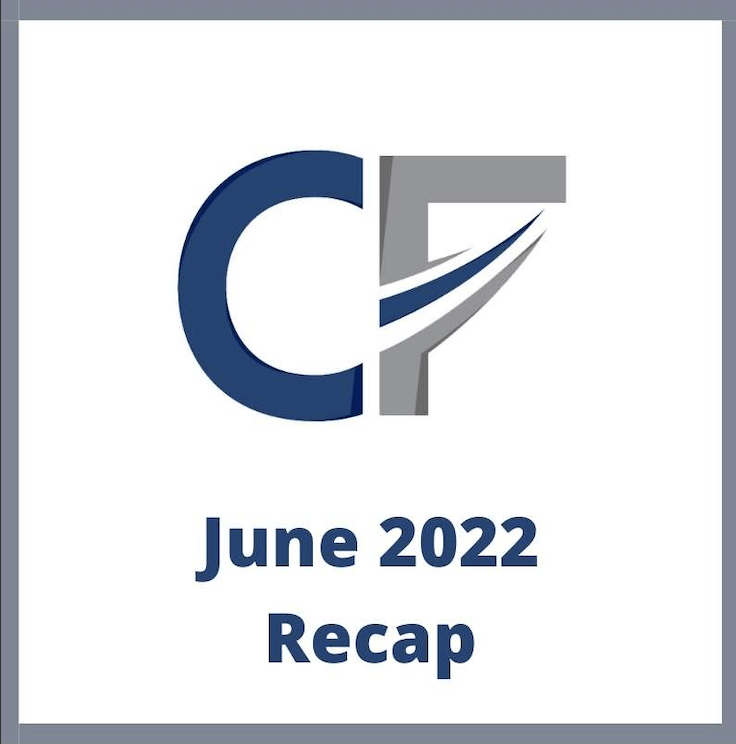 The markets tried and failed to break through the upside resistance the first week of June. Selling came into this attempted rally on the 8th , reminding everyone the bears are still in control, the charts broke down by the end of week, taking out support from the May lows. The DOW ended the month off 6.71%, the S&P was off 8.39% and the Nasdaq 8.71%. With fresh lows established for all three indices on continued inflation realities at the grocery stores and gas pumps. There is relief coming on fuel prices and other commodities with WTI oil futures trading below the $100/barrel number for the first time since May and the spot month has established a solid downtrend currently trading below the 100-day moving average of closes. The market is speculating that a downturn in worldwide economic growth will slow demand.
Here's a five-year chart for the big three, it's nice to view the market from a longer timeframe to get some perspective on where we are relative to recent history. The daily noise is hard to detrend and gain much insight into the long-term objective.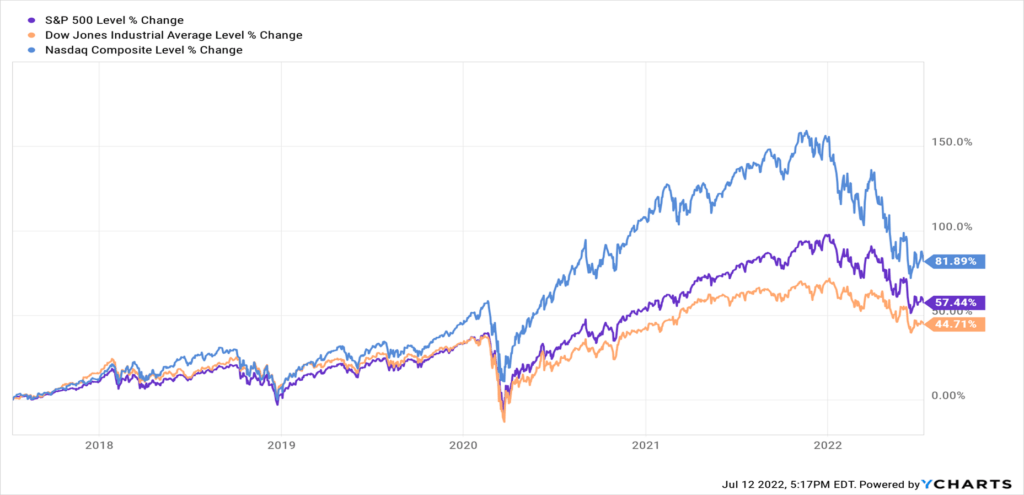 We sold a block of Williams Sanoma (WSM) and bought BP, AMZN, VUG and VTV with the funds. We downgraded WSM to sell and used the funds for some bargains that should outperform. We also made another roundtrip with the Humana (HUM)/Treasury (SPTS) swap. This is the third roundtrip this year taking 10% gross profit with each trade.

Looking ahead to the rest of July, we will kick off earnings season this week, hearing from JPM and MS along with other financial sector behemoths beginning on the 14th/15th. It will be interesting to see how the interest rate hike will impact their earnings. Many of them had spectacular earnings last year from their stock trading divisions, that will most likely be a headwind for them this year as we saw in Q1. I'm looking for strong earnings beats from Commodities and Energy companies and continued earnings support for Healthcare and Airlines.
I hope you continue looking at the long haul for this market downturn and recognize that with your financial house in order, the foundation, walls and roof all work together to make up the investment piece of your 5i's plan. I hope you had a great 4th celebration and enjoy the rest of July.
If you have any questions, please don't hesitate to call us at 844-CARLSON (844-227-5766).
Get on our email list to receive these updates in your inbox!
Ready to Take The Next Step?
For more information about any of the products and services listed here, schedule a free assessment today or register to attend a seminar.