Written By: Dan Moylan, Chief Investment Officer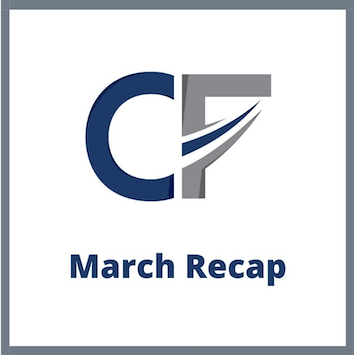 Well, the first quarter of 2021 has ended, I hope everyone had the opportunity to enjoy some nice Spring weather and get outdoors some in March. A quick recap of last month and some insight moving ahead to Q2.
We have some good success stories in the stock market with stock purchases made last summer expecting a strong economic recovery from COVID. The vaccines have made this expectation of economic growth a reality. The airlines continued to show strength in March with vaccinations ramping up, along with additional stimulus hitting the economy. Small busines is growing and many restaurants have seen a substantial uptick in business. Most of the stocks we used for this purpose have good gains at this point. We have strategically sold in some accounts, taking profit and rotating into other equities that are off their highs currently, like Sony, Qualcomm, Alibaba and Thermo Fisher Scientific.
Look for us to continue this rotation in April for ROOF investors and we are still bullish TECH stocks for growth. We will continue to take profit on the airlines and other stocks like COF and rotate into the stocks listed above along with other growth stocks. Many of these growth/TECH stocks have corrected in the last couple months, so we want to take advantage of this buying opportunity.
Thanks, and have a fantastic Easter weekend.
If you have any questions, please don't hesitate to call us at 844-CARLSON (844-227-5766).
Get on our email list to receive these updates in your inbox!
Ready to Take The Next Step?
For more information about any of the products and services listed here, schedule a free assessment today or register to attend a seminar.