Written By: Dan Moylan, Chief Investment Officer (on December 3, 2021)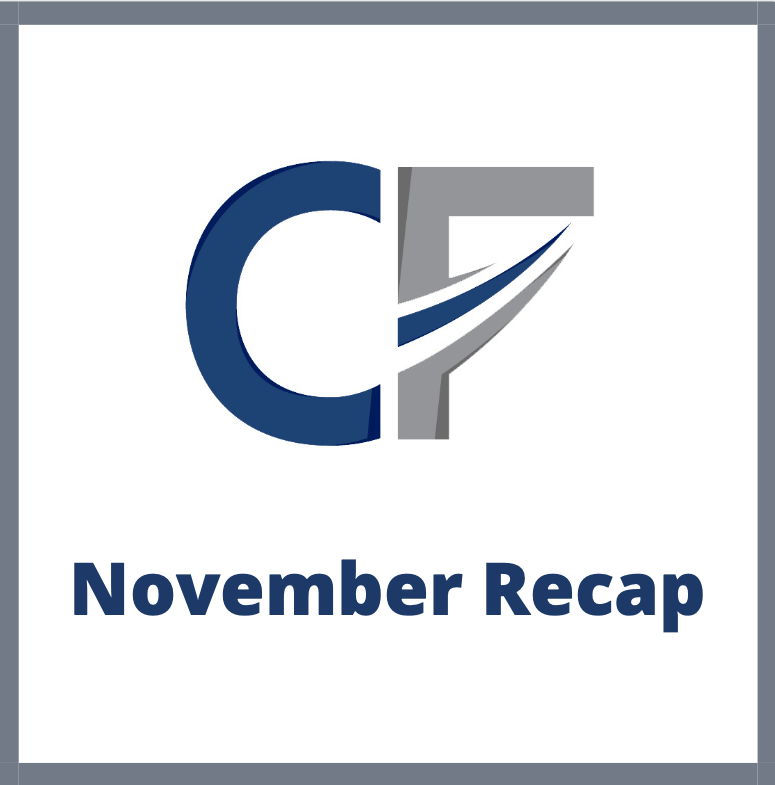 U.S. stocks gave back much of their October gains this past month.   November saw the S&P off -1.37%, the DOW was off -4.35% and the Nasdaq -2.53%.  The number one headwind for November was the discovery of the Omicron variant of the virus.  The uncertainty around this variant pressured stock prices around the world.  Volatility will continue in December, but I expect once the initial shock is over and we understand the impact the vaccines have on controlling this variant, the markets focus will return to the economic data, which is undeniably strong.  Economic strength should support the markets and allow another leg up on this bull market.  In the meantime, volatility will be higher which can get uncomfortable.  The long-term market charts help ease some of the nerves that day to day market noise creates.
For November you may have noticed a couple changes in your accounts.  Humana (HUM) hit our downside target which initiated a buy on this stock.  We moved all accounts that held the short-term treasury (SPTS) to HUM by doing a swap trade.  We also increased the holdings of Micron (MU) and Nvidia (NVDA) for some of you invested in the ROOF models.  We will continue looking for good values in December for your accounts.  The top three performers in the ROOF model YTD are NVDA +146.3%, Fortinet (FTNT)  +110.8% and Advanced Micro Devices (AMD) +64.3%.  
I hope you had a wonderful Thanksgiving: Here at Carlson Financial we are thankful for all of you.  Oh, and have a MERRY CHRISTMAS.  
If you have any questions, please don't hesitate to call us at 844-CARLSON (844-227-5766).
Get on our email list to receive these updates in your inbox!
Ready to Take The Next Step?
For more information about any of the products and services listed here, schedule a free assessment today or register to attend a seminar.