Written By: Dan Moylan, Chief Investment Officer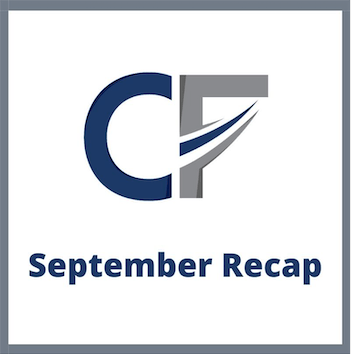 The market gave back the July and August Q3 gains, as selling accelerated during the last two weeks of September. Headline factors that pressured the market this past month include, a perceived slowdown of the economic recovery from the pandemic due to the variant and vaccine conflict, the Chinese real estate developer Evergrande missing interest payments coupled with the fear the government will allow them to fail and the continual fear that rising interest rates are going to derail the growth sector of the U.S. stock markets. Additionally, we have business as usual in Washington with the continued standoff on infrastructure funding. The bears took the upper hand in September with the DOW, S&P and Nasdaq all breaking their uptrends. They are trying to find support at the 100-day moving average (SMA) of closes. Look for the 100-day SMA to hold and the market to bounce back in October and Q4 with solid earnings and the positive economic growth data we continue to enjoy in the U.S. economy.
In September we rotated many ROOF/TECH accounts out of Visa (V) and Zimmer Biomet Holdings (ZBH) into Micron (MU) and MP Materials (MP). MU designs, manufactures, and sells memory and storage products worldwide in the Semiconductor industry. They should benefit from the supply shortage in this space with high demand for their products. This company has shown solid earnings growth the last 3 quarters, look for this trend to continue. MP is a mining company headquartered in Las Vegas, with the mine location in Mountain Pass Ca. This company engages in the ownership and operation of integrated rare earth mining and is in position to decrease the U.S. dependency on China for elements. The rare earth elements are essential for the manufacturing of magnets used for battery operation, including vehicles. The high demand for these elements, advantageously positions MP as a primary source in the U.S supply chain.
Stick with your Financial Plan and have a great October.
If you have any questions, please don't hesitate to call us at 844-CARLSON (844-227-5766).
Get on our email list to receive these updates in your inbox!
Ready to Take The Next Step?
For more information about any of the products and services listed here, schedule a free assessment today or register to attend a seminar.